by plane

The Airport
of Florence
is located west of the town, near the beginning of
A-11 motorway.

People arriving at Pisa Airport can reach the center of Florence by train (65'), directly outside the airport, or by bus.


by train
Florence is located along one of the fastest and best served lines of the
Italian Railways
. Make sure to take a train to the Station "S. Maria Novella".
How to reach Hotel Demidoff
Driving directions

For driving directions please refer to the
Hotel
Demidoff instructions

Taxi to the Demidoff Hotel

You can take a Taxi from the airport to the Demidoff. The taxis are located just outside the Airport Arrivals building.


Free Shuttle to the Demidoff Hotel from the Train Station "S. Maria Novella" on Sunday September 2, 2007

On Sunday there will be a shuttle operating from the Station "S. Maria Novella" to the Hotel Demidoff, leaving at 12:00, 13:30, 15:00, 16:30, 18:00, 19:30, 21:00. The bus stop will be in front of Mc Donald's,

outside

the Station (there is another inside), see the photo below. The bus will have on its front window the Conference logo. The shuttle belonging to Hotel Demidoff will leave from the same place at 09:30, 10:30, 13:15, 15:45, 18:00.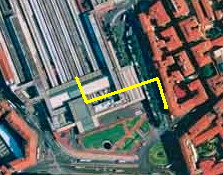 ---
If you want to be added to our mailing list please contact :

For questions about the conference or sponsorship contact :

Last Modified: June 22, 2006 - Copyright © 2006